INNER TAP
[TR-03]
SMART HOME INTELLIGENT SAFETY SYSTEM
Inner Tap, the entry product of the AI smart disaster safety system Tritona series, has built-in storage that can store high-performance throw-type liquid fire extinguishers and specially heat-treated Window Breaker to help quickly emit smoke and extinguish fire.
It can be easily installed anywhere and is made of high-end materials certified by the U.S. UL to protect built-in liquid fire extinguishers from vibration and impact.
The inner tap will be kept safe in various dangerous situations such as car accidents, home fires, and forest fires.
As a result, Not only creating a stable infrastructure in our society, but also, we can find the right to the safety of humans and ecosystems that can be enjoyed in smart cities.
A throw type fire extinguisher for extinguishing fires.
[Refill: Selling Separately]
Window Breaker for quick smoke emission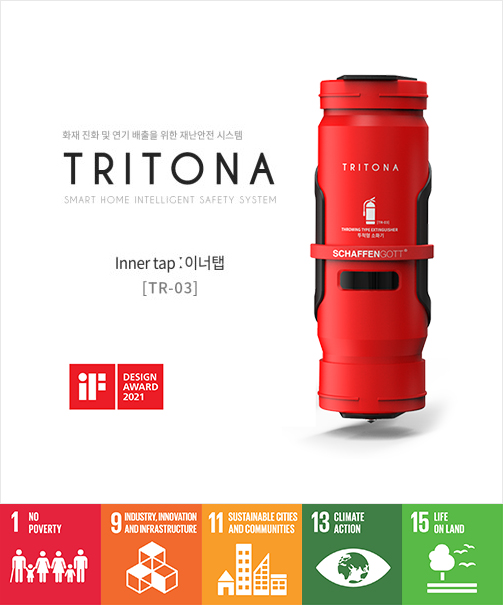 Throw Type Liquid Fire Extinguisher
[TR-00-C]
SMART HOME INTELLIGENT SAFETY SYSTEM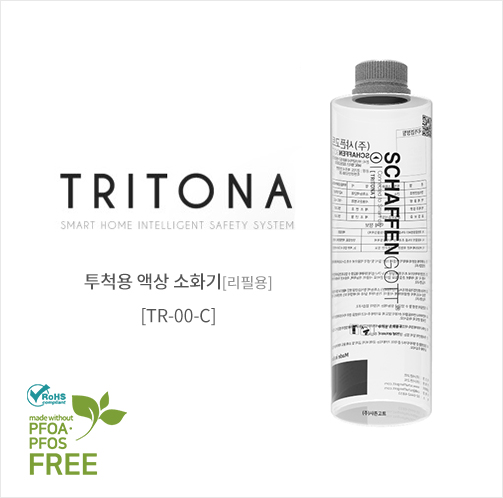 Tritona throw type liquid fire extinguisher is the improved version of existing fire extinguisher in weight, hardening, and usage. It is accessible for everyone to use with light weight and intuitive direction. Moreover, It is specially designed to maintain a safe distance while extinguishing fires. It consists of environmental-friendly digestive agents that can simply extinguish fires in the early stages by blocking and cooling by chemical reactions.
A throw type fire extinguisher for extinguishing fires.
[Refill: Selling Separately]
Window Breaker
Built-in Window Breaker
As most window Breaker sold on the market are not hard enough to crush windows in real life, windows cannot be destroyed in most of cases. Special tempered glass used in vehicles or luxury buildings is not even damaged by bricks.
Our Window Breaker which has been verified through various tests by precisely processing and heat-treating expensive special metals has been installed exclusively for glass breaking to prevent suffocation caused by smoke.
Window Breaker for quick smoke emission