TRITONA A.I
[TR-01]
SMART HOME INTELLIGENT SAFETY SYSTEM
Tritona AI contributes to the safety of all ecosystems as well as the safety of local communities by establishing a low-cost, high-efficiency disaster safety system only with Wi-Fi connection. Tritona, which is applied with advanced AI algorithms, will be linked to global cloud servers to transmit and receive various disaster information collected by SCHAFFENGOTT in real time.
In addition, as soon as you press the SOS button at the bottom, location and emergency information, and rescue signals are transmitted to the guardian's mobile phone and our control room for initial response. Therefore, it contributes to finding the safety and rights of everyone under the global community by creating an inclusive and safe infrastructure such as natural disasters like forest fires caused by climate change, sex crimes, and women's safety.
SCHAFFENGOTT is working with local governments to build test beds and build services that ordinary citizens can feel. We provide products and services to several local governments, including pilot smart cities in Korea. Not only that, but we also supply additional free products and services to vulnerable groups such as single parent families and the disabled, creating qualitative and quantitative data on how new innovative technologies change life.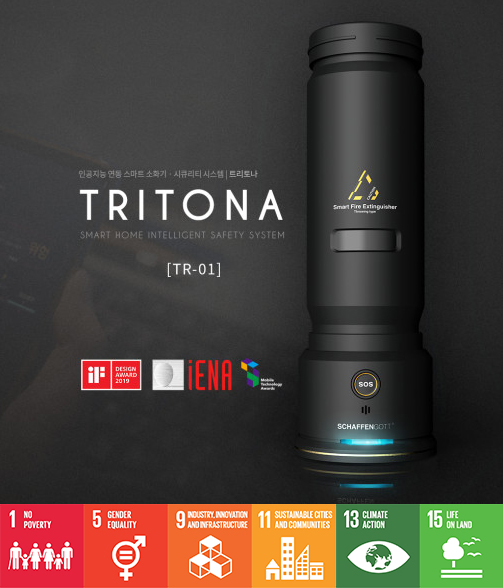 A throw type fire extinguisher for extinguishing fires.
[Refill: Selling Separately]
Window Breaker for quick smoke emission
Real-time fire detection
Dual emergency alarm for rescue signals and location
One touch emergency call [Alarm]
Portable mode during outdoor activities
Power supply
Throw Type Liquid Fire Extinguisher
[TR-00-C]
SMART HOME INTELLIGENT SAFETY SYSTEM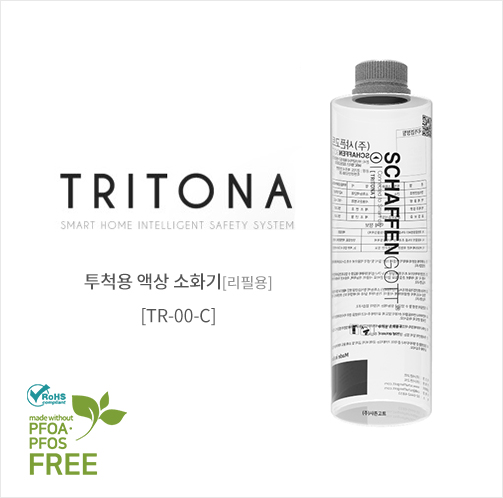 Tritona throw type liquid fire extinguisher is the improved version of existing fire extinguisher in weight, hardening, and usage. It is accessible for everyone to use with light weight and intuitive direction. Moreover, It is specially designed to maintain a safe distance while extinguishing fires. It consists of environmental-friendly digestive agents that can simply extinguish fires in the early stages by blocking and cooling by chemical reactions.
A throw type fire extinguisher for extinguishing fires.
[Refill: Selling Separately]
Window Breaker
Built-in Window Breaker
As most window Breaker sold on the market are not hard enough to crush windows in real life, windows cannot be destroyed in most of cases. Special tempered glass used in vehicles or luxury buildings is not even damaged by bricks.
Our Window Breaker which has been verified through various tests by precisely processing and heat-treating expensive special metals has been installed exclusively for glass breaking to prevent suffocation caused by smoke.
Window Breaker for quick smoke emission